Home has never been more important to us than it is right now. It's the center of our lives, a safe haven, even a remote workplace. It's what we need to sustain us through dark times and help us flourish in the better times to come.
You might be thinking now about ways to make your home better – safer, smarter, more beautiful. Finn Design can work remotely to help you think through your ideas and create a design plan.
Riitta Ylonen is a state-licensed interior designer, Certified Aging-in-Place Specialist and certified Feng Shui consultant. She has expertise in virtually all aspects of interior design. She will discuss the work with you and take a design from the space planning stage to completion of the project. She prepares scaled floor plans, elevations, electrical plans, and cabinetry drawings. This planning stage is crucial for renovation, new construction and any commercial projects.
If you're looking for a smaller-scale transformation, she also designs and makes custom furniture, bedding, window treatments, window shades and upholstered pieces, such as sofas and ottomans. Check out our shop for examples.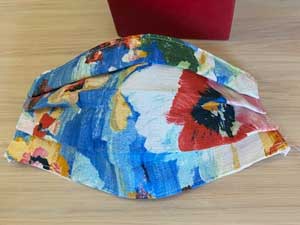 Her husband, Juha, a master woodworker and cabinetmaker, builds pieces remotely before installation. In other words, there's a lot we can do for you while you're waiting for the world to start turning again.
If you'd like to know more, please call us at 321-956-2011 or fill out our form and tell us what you need.
We wish you all the best and hope you stay safe and healthy. As we sew masks for the anti-virus effort, we're looking to the future. Here's to better times ahead.
Fresh bathroom design
Below is a video showing a recent bathroom transformation. The design employs principles of CAPS – Riitta is a Certified Aging in Place specialist, creating safe spaces for all ages that you can enjoy now and in the future.