Finn Design, Inc. is a company specializing in full service interior design, redesign, custom cabinetry, fine woodwork, handmade products, Feng Shui, aging in place, furniture and accessories (see our goods). It is owned and operated by a Finnish couple who immigrated to South Florida in the late 1980s. The company was established in 1994 and moved to Melbourne in 2001. Finn Design does most of its work on Florida's Space Coast and Treasure Coast, including Melbourne, Melbourne Beach, Indialantic, Satellite Beach, Cocoa Beach, Viera and Rockledge in Brevard County, and Vero Beach in Indian River County.

Riitta Ylonen (CAPS, NCIDQ) is a Florida Registered Interior Designer, Certified Aging-in-Place Specialist and certified Feng Shui consultant. She has expertise in virtually all aspects of interior design, taking a design from the space planning stage to completion of the project. She prepares scaled floor plans, elevations, electrical plans, cabinetry drawings, etc., which are required for the project to be a success. This planning stage is crucial for renovation, new construction and any commercial projects. If you're interested in seeing example plans and drawings, click here. She also designs and makes custom furniture, bedding, window treatments, window shades and upholstered pieces such as sofas and ottomans.

The cabinetry department is run by Riitta's husband, Juha, a master woodworker and bamboo specialist. Their company designs and builds custom cabinetry for residential and commercial spaces, including spas, retail stores, baths, libraries, theaters, kitchens, and home offices, and crafts custom pieces. Juha offers natural, environmentally healthy finishes and woods in natural colors, among other options. Smaller items may be made out of leftover materials from bigger projects; these scraps find a beautiful new use and stay out of the landfill.

Attention to detail and commitment to excellence have brought Riitta and Juha referral after referral from their satisfied clients.

Riitta Ylonen
CAPS, NCIDQ, ID4662
Florida Registered Interior Designer
Certified Aging-in-Place Specialist
Certified Feng Shui Consultant
Greer Saltzman, Satellite Beach, Florida

Brilliant design, impeccable craftsmanship. They have transformed my entire house into the Italian villa I always wanted, with extraordinary attention to detail and superb quality of workmanship, plus those added touches that make each project uniquely fabulous. They're the best!!

Liberty & Miguel Rovira, Rockledge, Florida

Riitta Ylonen is an asset to any project. I am impressed with her instincts toward how styling elements work together to create a living space that is unique for each client's taste and lifestyle. Riitta has an intuitive sense of what works well, thus preventing her clients from making stylistic mistakes they could regret later.

Peter & Denise Kaiser, Melbourne, Florida

We should've hired her sooner. We had to do some things over. There were lights in the wrong places. She helped us see unique possibilities.

Riikka Lavoie, Melbourne Beach, Florida

My home had been destroyed during the 2004 hurricanes, and Riitta was vital in the restoration. From the electrical plan and custom cabinetry, to the most minute details of interior design, her creativity and professionalism were indispensable.
Design philosophy
Each design project is individual and tailored for our clients' specific needs and preferences. We believe our clients' surroundings should be safe, functional, comfortable, aesthetically pleasing and reflect who they are.
Interior design
Our design services are available as a package or a la carte and are available for existing residential and commercial spaces or new construction or development.

- Design consultation
- Redesign
- Stylizing
- Space planning
- Accessibility/aging in space, ADA
- Universal design
- Project management
- Design implementation
- Color, finish, material selections
- Lighting design
- Plans, drawings and specifications
- Custom upholstery, furnishings
- Window treatments, shades
- Art & accessories
- Furniture & product design

Custom woodworking
- Cabinetry
- Kitchens
- Baths
- Entertainment centers
- Libraries
- Home offices
- Home theaters
- Man caves
- Dressing rooms
- Tables
- Window seats
- Booth and nook seats
- Furniture including beds, nightstands and case pieces
- Art & accessories
- Custom products

Feng Shui
Good design, infused with Feng Shui principles, goes beyond visible aesthetic beauty and will promote the most potential and well-being for a home or place of business. A certified Feng Shui consultant, Riitta Ylonen has studied different schools of Feng Shui for more than two decades. Using this intuitive and practical art and science, she helps bring people and their environments into harmony within their surroundings and create auspicious environments for living and working. She is available for off-site and on-site consultations.
Learn more
DESIGN FOR A LIFETIME: CAPS
Riitta Ylonen is a Certified Aging-in-Place Specialist (CAPS). She is skilled at designing spaces so they are friendly to clients of all ages and abilities, whether they are living independently at home or have a progressive condition or injury that requires home modifications. She will evaluate each client's needs for a custom solution to meet the goals of safety, security, ease of use, comfort and beauty. Riitta will work with healthcare providers, occupational therapists and other professionals as needed to plan and execute your project so that you can enjoy your home for years to come.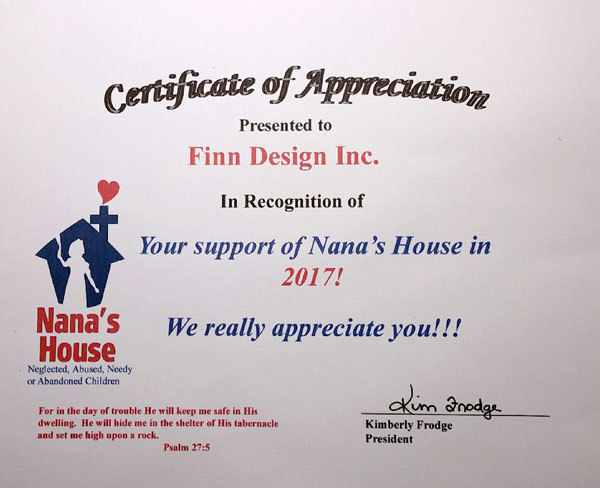 COMMUNITY
Finn Design Inc. has a strong investment in the community. It volunteered its interior design, cabinetry and planning services to Nana's House, a home for neglected, abused and needy children in Palm Bay, Florida, in its new Community Center. And we've made dozens of masks, repurposing remnants of designer fabric, for those in need in the community with the advent of the COVID-19 pandemic.
What to expect
Initial meeting: We will discuss project requirements, client's tastes, needs and design preferences, investment level, concerns, and services offered. Any consulting fee for this meeting will be credited to the project's design fee.

Pricing: The compensation for design services can be fixed, hourly or a combination as determined suitable for the scope of work and agreed to by the client and designer in a written design agreement.

Working relationship: To have support and coordinating help in a construction, renovation or design project with a myriad of aspects, it is a wise choice to hire a registered, qualified interior designer. A designer can help you avoid costly mistakes and prevent unnecessary stress. The success of any and all projects are based on expertise, knowledge and teamwork with the client, designer and the designer's crew. Our goal is to create your dream space with quality products, service and highly qualified team members.
Publications and awards
Featured in TV, radio, Florida Today, Spaces magazine and Space Coast Living Home edition

First Prize winner in Residential Renovation in ASID Florida North Chapter contest, 2012

First Prize winner in Kitchen category in ASID Florida North Chapter, 2013

First Prize winner in Kitchen category in ASID Florida North Chapter, 2014

Second Prize winner in Residential Bath category in ASID Florida North Chapter, 2015