Frequently Asked Questions
What do you do as an interior designer?
An interior designer creates detailed plans to make your space useful, safe and accessible as well as beautiful. Finn Design Inc. will be your source for:
Concept development: Whether you are planning a new home or renovating an existing one, you will meet with designer Riitta Ylonen to discuss preferences, tastes, how a space will be used and who will use it. Reflecting your tastes, the designer will come up with a creative approach unique to your space.
Space planning: Finn Design will prepare detailed drawings for your projects — that is, plans (the view from above, showing a room's layout), elevations (the vertical view, as of a wall with cabinets) and perspective (three-dimensional) if needed. These mandatory steps for an accurate and successful project will help you maximize the functionality and beauty of your space.
Implementation: The designer monitors the implementation of the design. She will meet with contractors and other tradespeople involved in the project and will schedule and coordinate it step by step.
Design and decoration: The designer will help you with color coordination and selections for finishes, materials, textures, flooring, plumbing, light fixtures, furnishings and more. She will also help you select art and accessories. As a designer, she has access to products that you may not as a consumer, so you may choose to purchase them through her. If purchasing of materials and fixtures is part of the design agreement, the designer will prepare estimates and purchase orders and will follow through until they are in place.
Why should I hire an interior designer?
A designer is essential during the planning stage of your project, especially if you are planning new construction or an extensive renovation. The designer works closely with the client and the contractors to help attain the desired results. Hiring a professional firm like Finn Design can save you time and money by helping you avoid costly mistakes. Riitta Ylonen makes the process run smoothly for you from concept to completion.
What is the difference between an interior designer and an interior decorator?
An interior designer has a degree in interior design or a related field. An interior designer has recorded work experience under the supervision of a licensed or registered interior designer and/or architect. After a qualified time period of education and work experience, they can apply for the NCIDQ — National Council of Interior Design Qualification exam. After passing the exam, they can apply for professional interior design registration in Florida. These qualifications enable a designer to create detailed plans and make each space safe, efficient, accessible and beautiful. With their familiarity with building codes and regulations, designers protect the health, safety and welfare of occupants through their designs.
Florida no longer issues a license for interior designers, but the requirements for registration are essentially the same.
An interior decorator isn't required to have a degree and cannot be registered by the state in interior design. A decorator works with finishes and color schemes, which designers also do in addition to more comprehensive renovations and construction projects.
If I have an architect, why do I need an interior designer?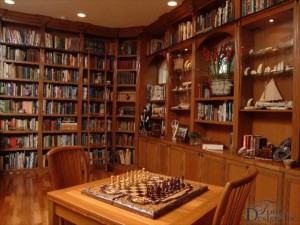 An interior designer will work with the interior details that most architects don't handle. The designer will study the space and adjust and suggest changes for the plans based on the desired function for the rooms you want to create or renovate. She will assist the client to choose the right products, including flooring, materials, cabinetry and window treatments, and incorporate them into the design.
If we want to remodel our space, how soon should we call the interior designer?
The interior designer should be involved from the beginning of a project, as a designer does much more than pick out colors and furniture. Finn Design will help you conceive, plan and create your new space efficiently and elegantly, helping you avoid costly mistakes and delays.
Does it matter what size our renovation is?
Whether your project is one small room or an entire house, Finn Design can help you create your ideal space.
How do you charge for your services?
Finn Design will work with your budget, using an hourly fee or flat fee as agreed upon with the client. A design agreement signed by the client and the designer will explain the scope in detail. The first meeting is usually complimentary.
How long does a project take?
It depends on the size of the project. Furnishing one small room can take less than a week once the products are delivered. Refurbishing a large kitchen, for example, depends on complexity and can take several weeks, especially when custom orders are involved. We will discuss the variables with you.
What style is your specialty?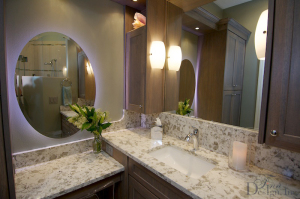 Finn Design is knowledgeable in all styles, from traditional to contemporary to transitional. We are inspired by you and design your space according to your tastes.
Do you do "green design"?
Finn Design can recommend and implement a range of products that are energy-efficient and environmentally conscious. All of Finn Design's cabinets are made of natural wood sourced in North America and other environmentally friendly products.
Do you work with subcontractors, or do I need to find them?
We work with a full professional team of experts in all construction trades. All are insured and licensed and have worked with us for several years.
How are your custom cabinets created?
Finn Design's clients have the option of commissioning beautiful custom cabinetry from our cabinetry department, run by Juha Ylonen. Finn's cabinets are locally hand-crafted and built to fit your space perfectly. Because every piece is custom made, Finn's designs can employ special features that use every inch of available space. These enhancements range from appliance garages to pantries to hidden, lift-up shelves.
What are your credentials?
Riitta Ylonen is a Florida Registered Interior Designer and certified Feng Shui consultant who has won three first prizes in a row for residential design from the American Society of Interior Designers, Florida North Chapter. She has expertise in virtually all aspects of interior design and can take a design from the space planning stage to completion of the project. She does both residential and commercial work, including professional offices, beauty salons, medical offices, retail establishments, spas and restaurants.
Her husband, Juha, runs the cabinetry department, building custom cabinetry for residential and commercial spaces, including spas, retail stores, kitchens, baths, libraries and home offices.
What does a Feng Shui consultant do?
As a certified Feng Shui consultant, Riitta Ylonen studies her clients' elements, which are highly personalized and give direction in various ways to enhance and balance one's life aspects, such as career, family, wealth and relationships. Also, her study of the environment, whether it be home or office, is important for discovering ways to negate external and internal harmful influences to make the space harmonious and supportive. Through this blend of art and science, she can balance the flow of energy in a space and enhance the well-being of its inhabitants.