What is eDesign?
Maybe the ideal choice for you!
eDesign is interior design services offered online, conducted remotely.
For elevating, changing or finishing up your project or spaces, this service is a simple, affordable option for a lighter-investment project or if you need fewer services than full-service interior design. There are no time constraints. You work on your own timeframe, and you decide how much to invest in your project.
eDesign is an ideal service for clients who want guidance, direction and design expertise or may need support and advice on the final selections, fixtures or finishes but are willing to do the legwork and manage and implement the project themselves. If you are DIYer (do-it-yourselfer), this is a great design service for you.
We request information from you to learn and understand your tastes, goals, needs and functions for the space you've chosen. With our eDesign creation, you get guidelines and suggestions, including a floor and/or furniture plan if that's what you need to move on with your project.
Our eDesign process
First, please contact us through the contact page. After we get your request, we'll send you to an eDesign questionnaire to gather more pertinent information about your project and requirements.
As we proceed, we'll ask you to measure and photograph the space and any existing pieces to be incorporated into the design. We'll use this information to inform our custom design. We may ask for additional information if needed.
Next, we prepare an appropriate plan for the project, color palette recommendations, and a furniture layout, if applicable. For your specific project, you may wish to add services from our a la carte menu that are available for eDesign.
Our eDesign services start with the Essential Package. This first level, which gets you started with the ideas and basics for a design project, can be customized by adding additional interior design services as desired from our a la carte list of online services.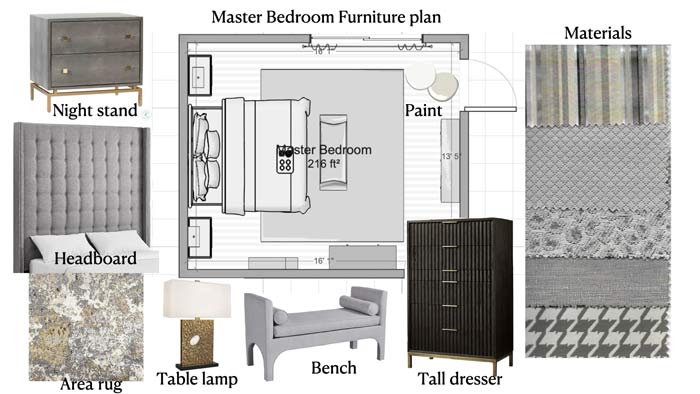 Essential Package
The Essential Package of eDesign services will help you to get inspired and move in the right direction. It gives you the guidelines and design suggestions to find the essential pieces to fit your style and space. This package also can be customized to include more a la carte services as needed.
Includes:
Essential Ideas Questionnaire

Floor plan and/or furniture plan or mood board or combination of all (if applicable)

Furniture inspiration images (if applicable). Many pieces are easily available for purchase online or through local retailers.

Color palette suggestions

Main design ideas
How much does it cost?
One space or room will be about $350 depending on the size and complexity of the project. We'll figure out the final cost after we determine the size of the project and the scope of work, including any add-on services you choose from our a la carte list. If a broader service package is desired, we can customize the eDesign package to suit your needs, as long as the services required will work via email. For more or fewer services, please inquire.
What do we need from you?
You will get a detailed questionnaire so we have what we need to start. Based on the questionnaire (and answers to any additional questions we may have), we can determine the cost for your specific project. I will email you an invoice including description of the services agreed upon (you can pay with a credit card or electronically).
After we receive your payment, measurements, photos and any additional information we may need, we'll proceed to the design work. You will receive your package within two to three weeks (a summary and suggestions or notes, plus images in electronic format, such as JPG, PNG or PDF). You may request one revision on the plans if needed. Please see the Terms and Conditions.
We look forward to working with you!
CONTACT US
---
Hi, I'm Riitta.
Innovative, skillful and realistic designer
I create, elevate and transform spaces with safe, accessible and beautiful award-winning design solutions.
Finn Design … Creativity and Craftsmanship from Inspiration to Installation